When you buy at iacono.fr, you benefit from a personalized and relevant advice, a large number of references among the biggest brands and an attractive price offer. Customer satisfaction is our N°1 objective and we all work together to bring you the best service!
--------- The reference in tv, hi-fi & home cinema ----------
Your opinions are important to us and your satisfaction is our priority. In order to gain your trust iacono.fr is working with Trusted Shops to collect your opinions.
iacono.fr Merchant of Excellence 2014, 2015 and 2016 - Fia-Net
Thanks to you, iacono.fr has been elected Merchant of Excellence for the years 2014, 2015 and 2016.
Many thanks!
iacono.fr is awarded the "Merchant of Excellence 2014", "Merchant of Excellence 2015" and "Merchant of Excellence 2016" prizes by FIA-NET, the leading French e-merchant evaluation site. This label testifies and rewards the quality of our services to our loyal customers whom we thank.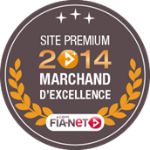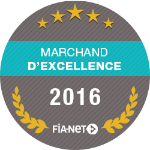 The biggest brands are on iacono.fr
Since 1954, in store and for more than 7 years on the internet, iacono has been the partner of the largest manufacturers of image, high-fidelity and home cinema products. The best brands trust us to present their most prestigious products and detail their technologies through advice sheets, technical arguments and demonstrations in our Nîmois store.
Created in 1954 by Pascal Iacono Di Cacito, the eponymous brand has become over the years a true institution with a solid reputation. Taken over in April 2007 by Stéphane Mas, it is still gaining ground by developing a new concept.
May 2010 is the month of change for IACONO, with the opening of a new breathtaking space in the Axiome building, located on one of the main arteries of Nîmes. IACONO leaves its store on the Boulevard Jean Jaurès to move into a more spacious, more modern space, visible from afar, with parking facilitating access and customer reception. IACONO becomes "ESPACE IACONO" and Stéphane Mas adds to the image and sound, household art to meet a wider demand from his customers.
But Stéphane Mas doesn't stop there, he has turned this space into a new concept by integrating the first Bose showroom in France (100 m2).
In a few words you will discover the IACONO SPACE by browsing the exhibition and advice areas that present the audiovisual materials. You will be welcomed by a team of passionate professionals who will show you the innovation and authenticity of the solutions presented.
In the basement it's the discovery of a magical place where moviegoers can settle down in the private cinema room or in the Home Cinema area and music lovers can choose their equipment in real audio rooms.
The IACONO SPACE allows you to see, listen and take the time to appreciate in real conditions the quality of the services offered. It is also for sound professionals, the opportunity to measure the quality of equipment live.
Let yourself be tempted by this unusual space where you can give free rein to your desires.